Spaghetti show of Chumak - we cook better!
2/24/2011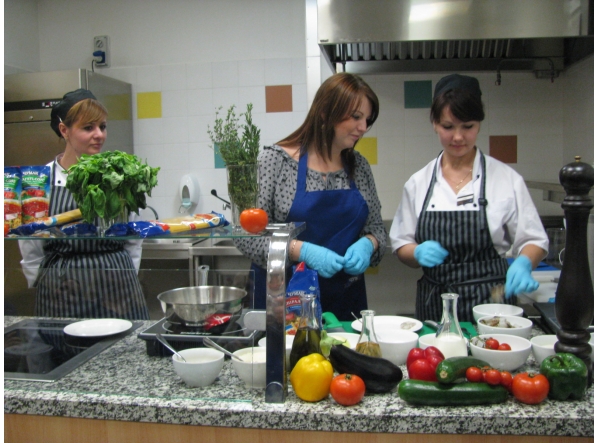 The event's program featured a master class in pasta cooking from Mille Miglia's leading chefs, a tasting of ready dishes, dinner, and a conversation in informal atmosphere with Chumak's top executives: Johan Bodén, one of the company's founders, and Pavlo Shevchuk, Chumak General Director.
The first part of the spaghetti show represented a practical lesson in pasta cooking (two pasta varieties from Chumak TM were offered for the master class: rotini and spaghetti). Mille Miglia chefs Oksana Harbuz and Larysa Kravchuk held an 'introductory' course on the history of pasta. This historical digression made participants of the spaghetti show respect even more the pasta cooking process, so many journalists responded with great interest to the invitation from the chefs to take a direct part in the pasta cooking process (all participants were provided original aprons bearing Chumak TM logotype).
The chefs shared some nuances of cooking a real Italian pasta with the guests of the spaghetti show, and noted high quality of Chumak pasta which, in their opinion, completely meets all requirements to this product: it is tasty, 'holds' its shape well, does not stick or glue together even if overcooked, and therefore, does not need rinsing with water after boiling, which is the case when cooking macaroni made from soft wheat and which does not bears upon its taste well.
Chumak's top executives also did not stay on the sidelines of the pasta cooking show. Johan Bodén personally showed the most original method of checking whether pasta is ready. Italian chefs sometimes use this method even today, tossing several spaghettis up on the ceiling: if they will stick to it, it means they're ready. Mr. Bodén did not go for tossing pasta up to the ceiling; instead, he threw them onto the wall, causing a tremendous response on part of the master class participants. A contest for the 'speed sucking-in of spaghetti' only added an extra drive to the event.
The next phase of the spaghetti show featured tasting of dishes and a dinner in the best Italian traditions, accompanied by an informal conversation with Chumak's top managers. The questions concerned mostly production issues, plans, and prospects. Mr. Bodén told the guests that their company is engaged in an experimental development of own resource base: growing hard varieties of wheat. Speaking about strategic plans, Mr. Bodén emphasized: 'Today's business policy gives thorough planning a foremost priority. We don't want to urge the events; first of all, we advocate reliability and quality in everything. As far as pasta is concerned, it is too early to talk about huge results, because we launched its production only in 2010. On the other hand, it is worth noting that there are very few large players on this market in general. They are mostly regional producers, plus a few nationwide players, but overall, the market of quality pasta in Ukraine is still underdeveloped. The majority share of the market belongs to macaroni and vermicelli made from soft wheat varieties. Therefore, our prospects look good'.
In his turn, Chumak General Director Pavlo Shevchuk noted that this year, the company plans a growth of about 30% comparing to the last year. 'Our plans are quite ambitious, but, judging by the first results of 2011, are very much feasible. The planned pasta turnover for 2011 will be about UAH 30 million. Our potential in the pasta segment allows us to count on a substantial progress already in the
nearest future. It will also be helped by the fact that Chumak is one of the oldest and most powerful brands enjoying steadily high trust among Ukrainian consumers'.
A new product from Chumak – spaghetti sauces – weren't left without attention either. Says Johan Bodén: 'A pasta sauce handmade from fresh food is a not bad option for a formal dinner, but this process is both financially and time consuming. But when you get home in the evening after work and you have to cook something for dinner rather quickly, you don't have that much time but you still want to treat your family to a nice meal. Tasty and ready sauces from Chumak provide an ideal way out of this situation. All in all, it will take quarter of an hour to cook a tasty pasta dish. A couple of minutes to boil water, 8 minutes to cook pasta, 2 minutes to let it drain, and 3 minutes to warm up a Chumak sauce. And a few more minutes to dress pasta with sauce and serve it on the table'.
It is always tasty with Chumak!